Tech - Media News Watch originally published at Tech - Media News Watch
Wisej.NET 3.2 adds new enterprise-grade features that simplify the development of complex Line of Business (LOB) cloud applications for developers.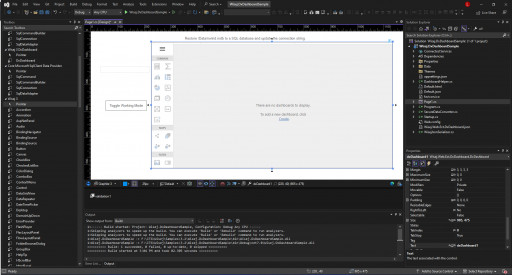 DevExpress Dashboard Wisej.NET Designer
DevExpress Dashboard in the Wisej.NET Designer
WASHINGTON, May 3, 2023 (Newswire.com) - Ice Tea Group LLC, the leading specialist for enterprise-scale web migrations, announces the release of Wisej.NET 3.2. This release delivers new features for ASP.NET Core Wisej.NET applications including a JSON View Builder, enhanced Validation System, an integration for Developer Express' JavaScript Dashboard, and more.
Validation System
The new validation system allows developers to easily add validation to their applications, ensuring that user inputs are accurate and reliable. The system supports a wide range of validation types, including required fields, regular expressions, and custom validators.
Integrated Third-Party Component
The new JavaScript Dashboard integration based on Developer Express' Dashboard component allows developers to visualize the dashboard configuration using the Wisej.NET designer purely in C#. No JavaScript, HTML or API wiring involved.
Using the DevExpress Dashboard component requires a valid license provided from Developer Express.
General Improvements
Speed improvements across the board.
Consolidated bug fixes and enhancements to all controls.
DataGridView memory footprint for large data sets has been reduced.
Expanded Binding and MVVM ICommand support to ToolBarButtons and MenuItems.
New BindableComponent base class to enable data binding on components.
Read the full Wisej.NET 3.2 release notes here.
Contact Information:
Levie Rufenacht
[email protected]
2024493778x707
Original Source:
Ice Tea Group Releases Wisej.NET Version 3.2
Tech - Media News Watch originally published at Tech - Media News Watch