Tech - Media News Watch originally published at Tech - Media News Watch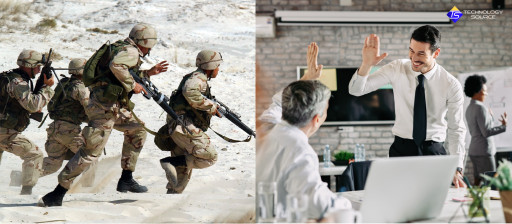 From serving our country in the military to protecting against cybercrime
Veterans in Cybersecurity
SANTA ANA, Calif. & FRANKLIN, Tenn. - November 18, 2022 - (
Newswire.com
)
Technology Source, a national technology advisory firm, has recently added a veteran-owned security provider, Blue Team Alpha, to their provider portfolio. 
With the availability of over 200 security providers, Technology Source saw the need to offer their partners a managed service provider that offers a comprehensive bundle of security services. "Most of our partners need eight or more different security services to meet the needs of their business. We saw the need to offer a single source option to operate much more efficiently than before," says Rob Olson, Chief Revenue Officer at Technology Source. In addition to the simplicity of working with a single provider, Technology Source was impressed by the unique background of Blue Team Alpha's leadership team. Sonya Meline, Technology Source's Cybersecurity Expert and CIO, stated, "As a Veteran of the U.S. Armed Forces, I was impressed by the unique perspectives Blue Team Alpha brings to cybersecurity. Blue Team Alpha's military experience, in nation-state cybersecurity, provides our partners with an advantage necessary to protect their valuable data."
To launch this new service, Technology Source and Sonya Z Meline, recently hosted a panel of cybersecurity experts and business leaders. The panel discussed the advantages of working with veterans, current cybersecurity threats and the impact of CMMC and FedRAMP.
Joseph Kingland, CEO of Blue Team Alpha, who once served Active Duty in the United States Navy as the lead Information Systems Administrator and Sound Silencing Officer on the USS Pennsylvania, said, "Blue Team Alpha is proud to partner with Technology Source, a fellow veteran-led business that is driven to go above and beyond for clients. We are excited to work together with the mission of providing top-of-the-line quality cybersecurity services to help defend businesses against the cyber threats of tomorrow."
Technology Source's expert panels are specifically geared to organizations who are focused on reducing operational expenses, improving efficiencies, and ultimately delivering a better customer experience.   
With 500+ service providers in Managed IT Service, Telecom Services and Mobility, Technology Source provides recommendations that meet their clients' technical requirements, budgets, and timelines, and their need for an outstanding implementation experience. 
Here is a post from the company's website that makes the case for why you should add veterans to your cybersecurity strategy: https://www.technologysource.com/post/why-military-vets-should-be-a-part-of-your-cybersecurity-strategy.
To schedule a meeting with Technology Source's cybersecurity subject matter experts, please visit technologysource.com.
About Technology Source: 
We are the Sourcing as a Service company with 500+ best-in-class business solutions, and over two decades earning trust around the globe. Technology Source pairs with midsize and enterprise organizations to modernize IT. The vendor selection process is crucial to success. As a trusted business advisor, Technology Source's mission is to help our customers and advisors to win by unleashing the elements of enterprise technology solutions.
For interviews, reach out to Sonya Meline, at [email protected].  
Contact Information:
Sonya Meline
Chief Information Officer
[email protected]
Press Release Service by
Newswire.com
Original Source:
Technology Source Adds Military Veteran Cybersecurity Experts to Their Portfolio
Tech - Media News Watch originally published at Tech - Media News Watch